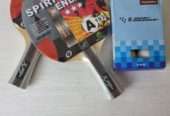 2 Rackets + 6 pcs giant dragon balls

The perfect racket for those players who have some experience and want to improve their game.

CONTROL – Rubber designed for great ball control. Control scale: 88%.

SPIN – Good level of spin due to the adherent rubber. Spin scale: 50%.

SPEED – Thin, soft foam to provide low speed. Speed scale 55%.

ITTF APPROVED – ITTF approved red and black rubber.
Overview
Equipment Type :

Game / Board game

Condition :

New