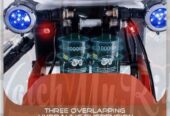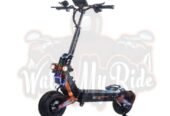 The 5000W D5 electric scooter is equipped with 2x2500W motors, providing high torque and low power consumption. You can reach a top speed of 43mph* and can handle up to 150kg (120kg is the suggested carrying weight for a comfortable ride).
Removable 35Ah Battery:
The D5 electric scooter has a 1680Wh battery, the range per charge can reach up to 40 miles and with the 5A charger that comes with it can be charged in 5-7 hours.
This scooter is only available for delivery at the moment and it should be with you within 5-8
working days.
Brushless Motors: 5000W (2500W x 2)
Voltage: 48v
Max Speed: 40mph*
Max Range Per Charge: 40miles**
Battery: 48V/35Ah REMOVABLE Lithium Battery
Charger: 48V/5A
Controller: 48V/35A x2
Charging Time: 5-7 hours
Breaks: Front & Rear Hydraulics Oil disc brake
Full disc brake with EABS
Tyres: 12'' Road Tubeless Vacuum. For more information visit:-
Website :- https://www.watchmyride.co.uk/
Contact Mail :- sales@watchmyride.co.uk
Contact No. :- 44 (0) 20 3302 7568
Features:
Brushless Motors: 5000W (2500W x 2)
Voltage: 48v
Max Speed: 40mph*
Max Range Per Charge: 40miles**
Battery: 48V/35Ah REMOVABLE Lithium Battery
Charger: 48V/5A
Controller: 48V/35A x2
Charging Time: 5-7 hours
Breaks: Front & Rear Hydraulics Oil disc brake
Full disc brake with EABS
Tyres: 12'' Road Tubeless Vacuum