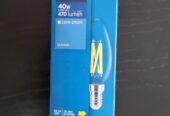 55 pcs  Philips LED candle bulbs x £ 4 = £220( if collected) or £220 +delivery fee.
Philips MASTER Value LED candle E14 Filament Clear 3.4W 470lm – 927 – 2200-2700k  – Dimmable – Replaces 40W
It is the perfect replacement for a conventional 40W bulb with an E14 (small Edison screw) cap/base. Switching to LED offers many advantages!
The advantages of this Philips E14 LED bulb:
You can save up to 90% on your energy and maintenance costs due to the low energy consumption of 3.4W and the long lifetime of 15000 hours. By comparison, traditional incandescent bulbs only last 1000 hours.